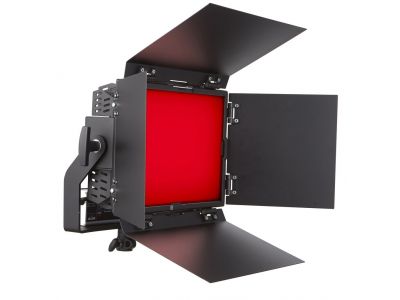 Alugue
BB&S Area 48 – Painel de LED Color RGBWW
Diária por: R$450,00
Measures 14 x 10.8 x 4.5, 105º Beam
Color: 2200 to 10,000K
TLCI 97.5 at 3200 to 5600K
Plus/Minus Green/Magenta Control
Barndoors and TVMP Mount
48V Power Supply 0-100% 8/16-Bit Dimming
1800W Tungsten Equivalent, DMX 512
165W, 100-240 VAC, 50/60 Hz Power Supply
Descrição

Informação adicional

Avaliações (0)
The Area 48 Color RGBWW LED Panel from BB&S is designed to render the most accurate color possible. With this light-fixture, theyve achieved that goal with variable colors. Area 48 Color is impressively expansive with its variable color temperature ranging from 3200 to 5600K with a TLCI rating of 97.5 and anywhere in between the color spectrum of 2200 to 10,000K. The Area 48s RGBWW LEDs allow access to literally millions of color combinations. The light also has a strobing mode for visual effects.
Built with the studio professional in mind, the Area 48 RGBWW has a 48V power supply that accepts 100-240 VAC current and is more stable than the standard 10-20V version, enabling 1-100% dimming locally on the fixture or remotely via 8/16-bit DMX. The unit just draws 165W of electricity with a low-heat output thats equivalent to a 1800W tungsten flood-light, which translates to a lower operating cost and a fast return on your investment. Provided accessories include removable 4-way barndoors and a locking power cable.
RGB + White + White
The Area 48 Color delivers saturated and tinted colors as well as precise clean white light in both 3200K and 5600K. At 1.8K tungsten-equivalent output, it matches the original Area 48s remote phosphor daylight and tungsten color rendering at both ends of the 2200 to 10,000K spectrum, while drawing only 165W at full power. The unit runs at 48V for precise dimming.
Area 48 Color
The BB&S Area 48 Color sets high standards for dial-in full color as well as true white accuracy. With a small footprint, the standard Area 48 is one of the most compact full-color LED panel units on the market.
Raises Color Accuracy Bar
To ensure the best color rendition, BB&S utilizes RGB LEDs and both 3200K and 5600K white LEDs that are selectively binned to produce outstanding rendition.
Soft Output, Wide Dispersion
Like the Area 48 Studio and Soft, the Area 48 Color fixture can provide output comparable to a 1800W soft light. Maximum output is available in 5600 to 3200K. The fixture delivers soft light with wide 105-degree beam spread and a very high 97.5 TLCI rating.
Intuitive Touchscreen Operation
An on-board touchscreen offers local control, or users can manage the lights on/off and color/white functions via DMX/RDM. DMX 512 provides for daisy-chaining multiple fixtures. Settings for plus/minus green and plus/minus magenta facilitate accuracy. It offers full-range dimming (8/16-bit from 1% to 100%) and runs flicker-free at any frame rate to fully accommodate high-speed shooting. It accurately generates speed-adjustable strobe effects within the fixtures software.
Small Footprint and Standard Accessories
BB&S Area 48 Color comes with a 48V power supply, locking AC cable, and TVMP mount. It also features removable barndoors for lighting control. Optional softboxes, grids, and diffusion are available for added control. The Area 48 is suited for stands or lighting grids with the PSU mounted on the yoke. The yoke is reversible for hanging or using on stands.
| | |
| --- | --- |
| Weight | 8 kg |
| Dimensions | 25 × 45 × 44 cm |