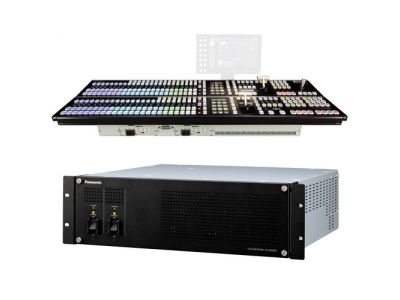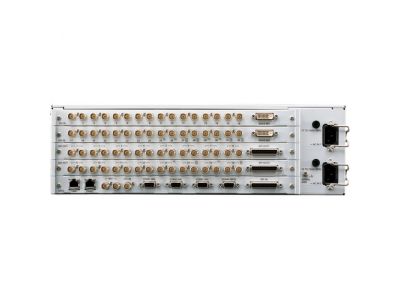 Alugue
Panasonic AV-HS6000 2 M/E Live Switcher Main Frame; Control Panel (Dual Redundant Power Supplies)
Diária por: R$3.500,00
Main Frame & 2 M/E Control Panel
Redundant Power Supply Configuration
32 HD-SDI and 2 DVI-D Inputs
16 Outputs Each Mirrored on 2 SDI Outs
Up to 1080p 10-Bit 4:2:2 / 8-Bit 4:4:4
Up to 1600×1200 4:3 / 1920×1200 16:10
Selector/Crosspoint/Transition Buttons
Downstream / Upstream Keyers
4-Channel MultiViewer Function
T-Bars, Joystick, Display Panel
This configuration of the Panasonic AV-HS6000 2 M/E Switcher includes the main frame of the switcher, featuring the input/output connectors and processing engine, and a 2 M/E control panel, both in a dual redundant power supply configuration.
The main frame offers 32 HD-SDI inputs, two DVI-D inputs for incorporating computer sources, and 16 output channels each mirrored on two SDI outputs. The main frame supports video resolutions up to 1080p at 10-bit 4:2:2 in YUV color space, and up to 1080p 8-bit 4:4:4 in RGB color space. It also accepts VESA resolutions up to 1600 x 1200 for a 4:3 aspect ratio output and 1920 x 1200 for a 16:10 output.
The control panel features two sets of bus selector buttons, crosspoint buttons, T-bars, a joystick, transition keys, display panel, and more. It also additionally supports the optional AV?HS60C3G touchscreen menu panel, which allows quick menu operation as well as control of other functions via physical buttons and rotary encoders.
AV-HS60U2P Main Frame w/ Dual Power Supply for AV-HS6000 Switcher
The AV-HS60U2P Main Frame w/ Dual Power Supply for AV-HS6000 Switcher from Panasonic features the input and output connectors and processing engine that drives the AV-HS6000 2 M/E switcher. It features 32 HD-SDI inputs, along with two DVI-D (digital only) inputs for incorporating content from computer sources. It will support video resolutions up to 1080p at 10-bit, 4:2:2 in YUV color space, and up to 1080p 8-bit, 4:4:4 in RGB color space. Additionally, it will accept VESA computer resolutions up to 1600 x 1200 for 4:3 and 1920 x 1200 for 16:10.
It features 16 output channels, with each output channel mirrored on two SDI outputs. Not only can these outputs be used for an isolated, program, or aux feed, it is also possible to combine up to 16 ISO channels and send to one display using the MultiView function. Additional display arrangements are also possible, including a squeeze mode which reduces the image size to fit audio levels and other data around the outside. A total of 4 channels may be used in conjunction with the MultiView function.
The system features two mix and effects (M/E) buses with fades, transitions, and other effects possible. Additionally, the switcher features both upstream and downstream keyers (USK and DSK) for filling in black space, logo and graphic insertion, and compositing. Frequently used effects, setting, video clips, and still images can be save to the internal memory for later recall during a production.
The AV-HS60U2P is designed to be operated using the AV-HS60C1P/AV-HS60C1E or RAV-HS60C2P/AV-HS60C2E control panel. In addition, software plug-ins allow operation over an IP network or using certain Panasonic and third-party RS-422 serial devices. In addition, the AV-HS60C3G Menu Panel is required to access and change settings locally at the switcher.
This version of the AV-HS60U features dual redundant power supplies. This way , if the first power fails the second will instantly takeover so that there is no interruption in service.
Connectivity
32 HD-SDI and 2 DVI Inputs
Despite being enclosed in a 3RU frame, the mainframe provides wide variety of inputs/outputs with frame synchronizer, format converter, and color correctors: Colors can be adjusted to correspond to different video source formats, camera properties, and displays
All inputs feature a 10-bit frame synchronizer
8 inputs are equipped with color correctors
4 inputs are equipped with upconverters
Signals can be delayed by up to 8 frames
16 SDI Outputs with 2 Outputs Per Channel
Each output features two mirrored SDI connectors 4 outputs are equipped with color correctors
2 outputs are equipped with downconverters
4-Channel MultiViewer Function
An independent 4-channel MultiViewer output function is provided that features a total of 9 patterns, and allowing up to 16 images to be displayed on one screen: MultiViewer can be selected from a total of 9 patterns, including: 4 split, 5 split (2 patterns), 6 split (2 patterns), 9 split, 10 split (2 patterns), and 16 split
Source names, tallies, audio level meters, clock, and safety markers can be displayed
Squeeze Mode can be selected to place the source name and level meter placed outside of the image
Mix and Effects (M/E)
Diverse DVE Transitions
In addition to wipe, mix, and cut transitions, DVE (digital video effects) transitions with 2-channel 3D DVE, such as size reduction and sliding, can be performed. Image rendering effects such as mosaic or defocus are also possible 4 channels of 3D DVE and 2 channels of 2D DVE systems are provided to support background and keys for each M/E bus
Multiple Keyers
The system feature a variety of keyers to promote creative live content creation: Chroma Key: Thanks to the proprietary Primatte algorithm, real time and high quality key compositions are possible
PinP (Picture-in-picture): 4 channels per M/E bus (8 channels total)
Key Preset: The Key Preset function allows memorization and recall of the a keys particular settings. 4 settings for each channel of key and 4 settings for each channel of DSK (downstream key) can be registered
Upstream Key (USK): 4 channels of USK are provided for applications such as adding the CG elements to fill the gap when inserting a 4:3 image in 16:9 frame
Downstream Key (DSK): 4 channels DSK are available — these can be assigned to PGM1 or PGM2 output
Memory Functions
The memory function allows mixer, video, and effects settings to be stored for later recall. It is designed to save time, allowing the operator to quickly engage frequently used settings and effects during a live broadcast where there is little or no margin for error Shot Memory: This function recalls background transition patterns or other video effects, including PinP size, position, border width, and key
Event Memory: This function allows continuous image effects to be to registered and played back in a timeline
Macro Memory: This function allows the recording and playback of a series of operations on the Control Panel. It can also record and playback setting information, such as input/output and keyers. Macro memories can be played back by assigning them to the cross point buttons, such as macro bus, PGM, and PST
Video Memory: Moving image (Clip) and still image (Still) can be recorded for 4 channels each for later reuse as video sources. A maximum 60 seconds of moving images can be saved in standard mode, and Maximum 30 seconds in high image quality mode
Intuitive Switching
Multi-Selection Panel: A color panel that can display thumbnail images with high visibility
Animation Wipe: With moving images (clip) and still images (still) recorded in video memory, it is possible to create animation wipes
System Scalability
16 AUX buses are provided. MIX transition is available from the AUX1 to AUX4 buses
The system can be operated remotely from a PC via a network connection
Supports interoperability with various third-party software plug-ins and connectivity with other devices. In addition to pre-installed plug-in software, customized software solutions can be created using the SDK
Included Plug-in Software
Serial Control Software
This software controls switching and transition of crosspoint with GVG200-compliant external controllers and editors using an RS-422 serial interface — external controllers and control software are available separately
IP Connected AUX Bus Control Software
This software controls switching from a VS-R45 remote operation panel to crosspoint via an IP network
Serial Tally Software
This software provides tally output and source names to an external tally display and I/F, and features UMD protocol v3.1 support. Tally is connected via an RS-422 serial interface
Panasonic AV-HS60C2P Control Panel for AV-HS6000 (Dual Redundant Power Supply)
The Panasonic AV-HS60C2P is a multi-selection, 2M/E control panel for the Panasonic AV-HS6000 Live Switcher. It supports dual redundant power supplies and is further upgradeable with the AV?HS60C3G touch menu panel, sold separately.
ME1 KEY Bus Selector Buttons
Switches bus column and functions operated by ME1 KEY bus
KEY 1 to 4 key source/key fill bus
AUX1 to 16 bus (AUX1 to 4 support the MIX transition function) (AUX bus 1/2 to 15/16 have the crosspoint link coupling function)
Display bus 1 selects images to be displayed on AV-HS60C3 Menu Panel
Utility bus 2 selects sources to be inserted in border background or key edge
MACRO bus 3 plays back the macro memory
KEY Bus Crosspoint Buttons
Select source for the bus switched with KEY bus select buttons
Can playback macro memory
Source Name Display Panel
Displays crosspoint numbers, source display names, and macro names
Bit map characters can be displayed for source names
Crosspoint Buttons
8 colors can be used for grouping to matched sources
Switching is possible among 24 crosspoints x 4 pages (96 total crosspoints)
Assign and play back the macro memory
ME2 KEY Bus Selector Buttons
Switches bus column and functions operated by ME2 KEY bus
KEY 1 to 4 key source/key fill bus
DSK 1 to 4 key source/key fill bus (can be assigned to PGM1/PGM2)
Utility bus 2 selects sources to be inserted in the border background or key edge
MACRO bus 3 plays back the macro memory
Memory Card Slot
Settings and log data can be stored/accessed on an SD memory card or SDHC memory card
Joystick Positioner
Provides cursor operation for positioning WIPE / PinP, size adjustment, chroma key
Transition
Background/key transition: operate fader, AUTO, or CUT transitions
Select transition type: select from WIPE, MIX, or NAM transitions
Fader playback of the event memory (EMEM link): performs fader operation of the event memory
ME change: switches the Control Panel ME1/ME2 columns
Switch on/off the macro memory attachment function (macro attach): enable/disable the macro memory playback trigger assigned to PGM bus, PST bus, or AUX bus buttons
Key, DSK Operation
KEY/DSK transition: operates KEY 1 to 4, DSK 1 to 4 AUTO, CUT transition of each ME
Key preset: for KEY 1 to 4 and DSK 1 to 4 of each ME, register and access key preset